Limerick City and County Council is seeking expressions of interest from town/ village groups who may have suitable project(s) for consideration under this competitive scheme.  For 2017, there will be €20 million in national funding to be shared amongst rural towns and villages for projects; the co-funding rate is 80%. The scheme is specifically targeted at rural towns and villages with populations of less than 10,000 people. Applications from towns and villages can range from €20,000 to a maximum of €100,000. Funding of up to €200,000 will also be considered for a limited number of projects which can deliver exceptionally strong economic benefit to a town or village and its outlying areas.
Limerick City & County Council are urging all interested parties from towns and village in Limerick to complete the Expression of Interest form and return it to Economic Development, 7-8 Patrick Street, Limerick City, V94 XF67 or email to lisa.ruttle@limerick.ie .
Forms to be submitted by 4pm on Friday 26th May 2017. Form and Scheme Outline available to download (please see links below). Please call Lisa Ruttle (061) 407538 or Rosie Webb (061) 407354 for further information.​
A maximum of 15 proposals will be selected by Limerick City and County Council for development into detailed applications from interested parties, which will be submitted to the Department of Arts, Heritage, Regional, Rural and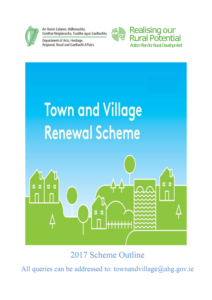 Gaeltacht Affairs by the end of June 2017.
For more information see: https://www.limerick.ie/council/services/community-and-leisure/grants-and-funding/town-and-village-renewal-scheme-2017