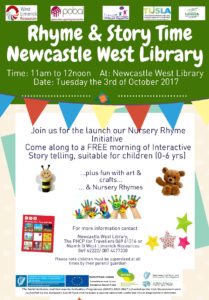 Nursery Rhyme Initiative Newcastle West.
The Nursery Rhyme Initiative is being launched in Newcastle West library on Tuesday the 3rd of October 2017 from 11am to 12 noon. The morning will include a FREE interactive story, nursery rhymes and art/craft activities. The morning is suitable for children aged 0- 6 years.
For more information contact the library in Newcastle West, the Primary Healthcare Project for Travellers (PHCP) on 069 61316 or Niamh at West Limerick Resources on 069 79113/ 0874477338. Children must be supervised be their parents/ guardians at all times.