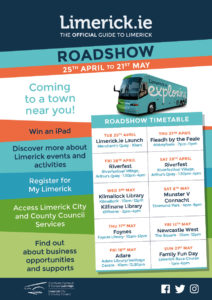 Limerick City & County Council launched the newly developed Limerick.ie website on Tuesday 25th April. Since the launch a Limerick.ie roadshow has been taking place around the county  to promote the website and demonstrate how Limerick.ie can be used. A branded bus is traveling to locations around the Limerick city and county with Limerick.ie staff on board who will answer all your questions. We have a number of dates in West Limerick.
Thursday 11th May 10am to 12pm at Foynes Library.
Friday 12th May 10am to 12pm, The Square, Newcastle West
Friday 19th May 10am to 12.30pm, Adare Library and Heritage Centre
The key features of Limerick.ie are:
Discover – visitors to Limerick city and County or citizens that live here can find out what is going on, save their favourite items and be inspired through suggested content, itineraries and features.
Business – new businesses can find out what Limerick has to offer and existing businesses can find out supports and information that may help them set up, scale or grow.
Council – citizens can find out what services the council offers.  Members of the public will view the council's range of services in a number of different ways.  They will also be able to set up set up an account with their own login details in a new 'My Limerick' section in which they can register issues or requests for services  24/7 and check the progress with the cases that they log.
Feedback – citizens, visitors and businesses will be encouraged to give the council ongoing feedback as to their experiences of Limerick.ie and the available services.