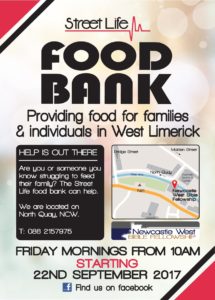 A Food Bank has recently  opened  in Newcastle West which will provide food for families and individuals in need in the town and throughout the region.
The group behind the initiative – Street Life Food Bank – is asking for donations from local businesses with the aim of helping those in need.
The Food Bank, which is located in the Newcastle West Fellowship at North Quay, will be open every Friday from 10am and is working with Food Cloud – an organisation that is able to access surplus food from major supermarket chains including Tesco, Aldi and Lidl.
As well as providing food boxes for those in need, tea, coffee and refreshments will be served at the Food Bank every Friday, all morning from 10am.
For further information contact Andrew Shanks on 086 8744182