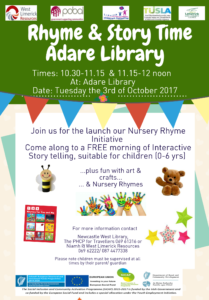 On Thursday the 5th  of October, 2 Story and Rhyme Time Sessions are taking place in Adare Library instead of 1 as previously advertised on the poster. In an effort to accommodate everyone and the huge interest we have had in the events, 2 separate sessions will take place.
The first session will take place from 10.30am to 11.15 am and the second session will take place from 11.15am to 12 noon. We ask that you attend just one session in order to give every child a chance to participate. We suggest that if you have not contacted the library/ or West Limerick Resources to register your attendance on the morning, we recommend that you do so. The 10.30am to 11.15am slot is completely booked, please only attend at this time if you have been advised by the library/Niamh or Catriona at the Childcare Committee. Otherwise please come along to the 2nd session 11.15am to 12noon.
Please be patient with us on the morning of the event. We will try our best to accommodate those not previously registered by allowing participation in the  2nd session from 11.15am to 12noon. In order for this free event to be a success, it greatly relies on everyone's understanding and co-operation.